Status de Atualizações do Post: BDRip AVi Dual Áudio + Legenda

Sinopse :
Em Austin, no Texas, dois casais – os compositores Faye (Rooney Mara) e BV (Ryan Gosling), e o magnata da música (Michael Fassbender) com uma garçonete que ele ilude (Natalie Portman) – perseguem o sucesso através de uma paisagem de rock 'n' roll, sedução e traição.
Opiniões | Curiosidades | Críticas | Prêmios :
Curiosidades das filmagens
– Parcerias em dose dupla
Christian Bale, Cate Blanchett e Natalie Portman fecharam para dois filmes de Terrence Malick ao mesmo tempo. Além de Lawless, eles também estão no elenco de Knight Of Cups. > Mudança de padrão Terrence Malick realizou cinco filmes em quase 40 anos de carreira, mas entre 2011 e 2012. Realizou quatro longas. > Atrizes cotadas Mia Wasikowska e Clémence Poésy estiveram cotadas para o produção.
– Renomeando
Antes o filme era conhecido como "Weightless", depois passou a ser "Weightless" e agora é "Song To Song".
– Mudanças
O ator Christian Bale foi inicialmente definido para ter um papel muito mais importante no filme, mas ele acabou trabalhando apenas três a quatro dias no set.
Trailer: Assistir
Imagens | Posters | Capa | Cartaz | Fotos: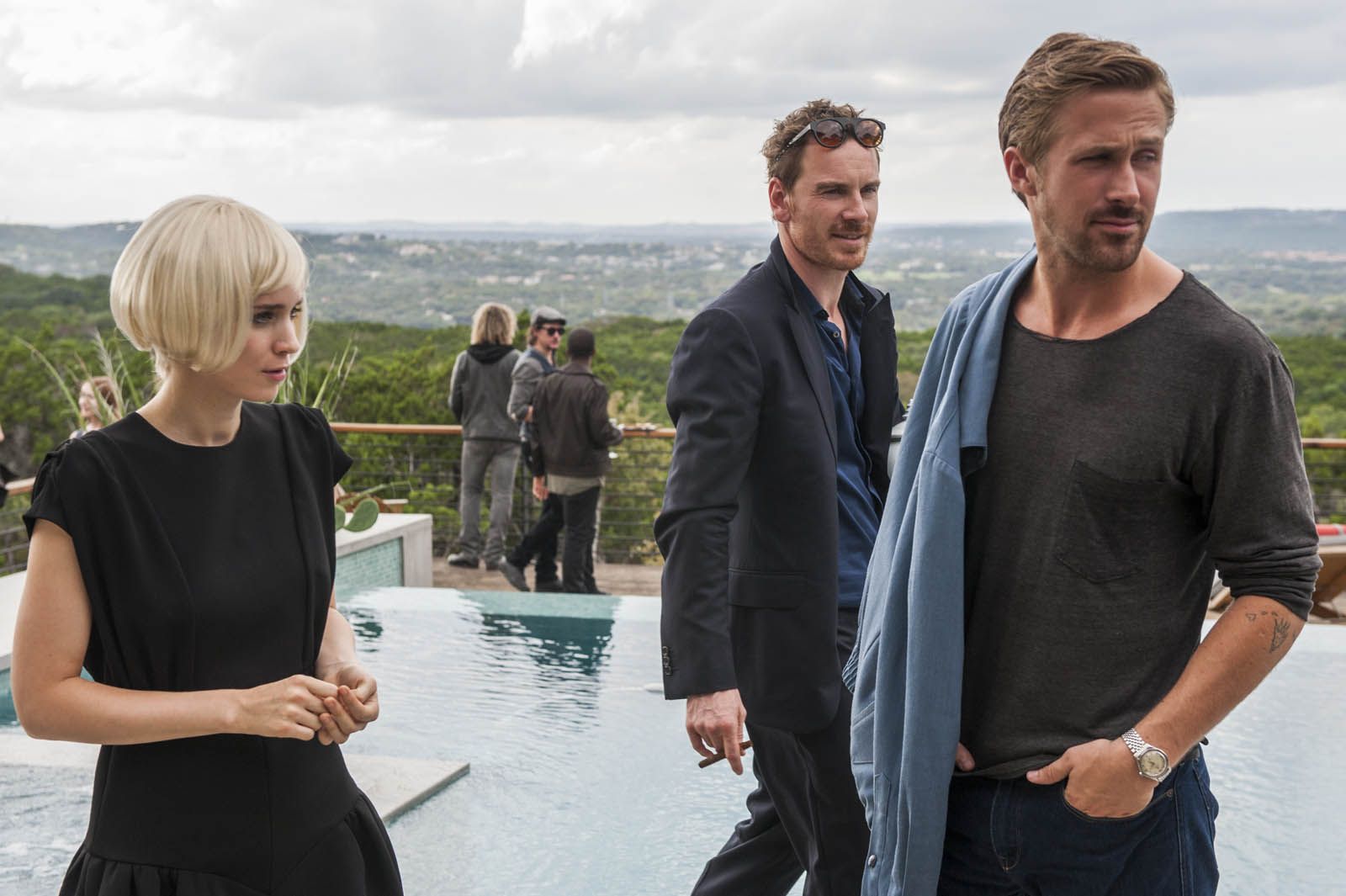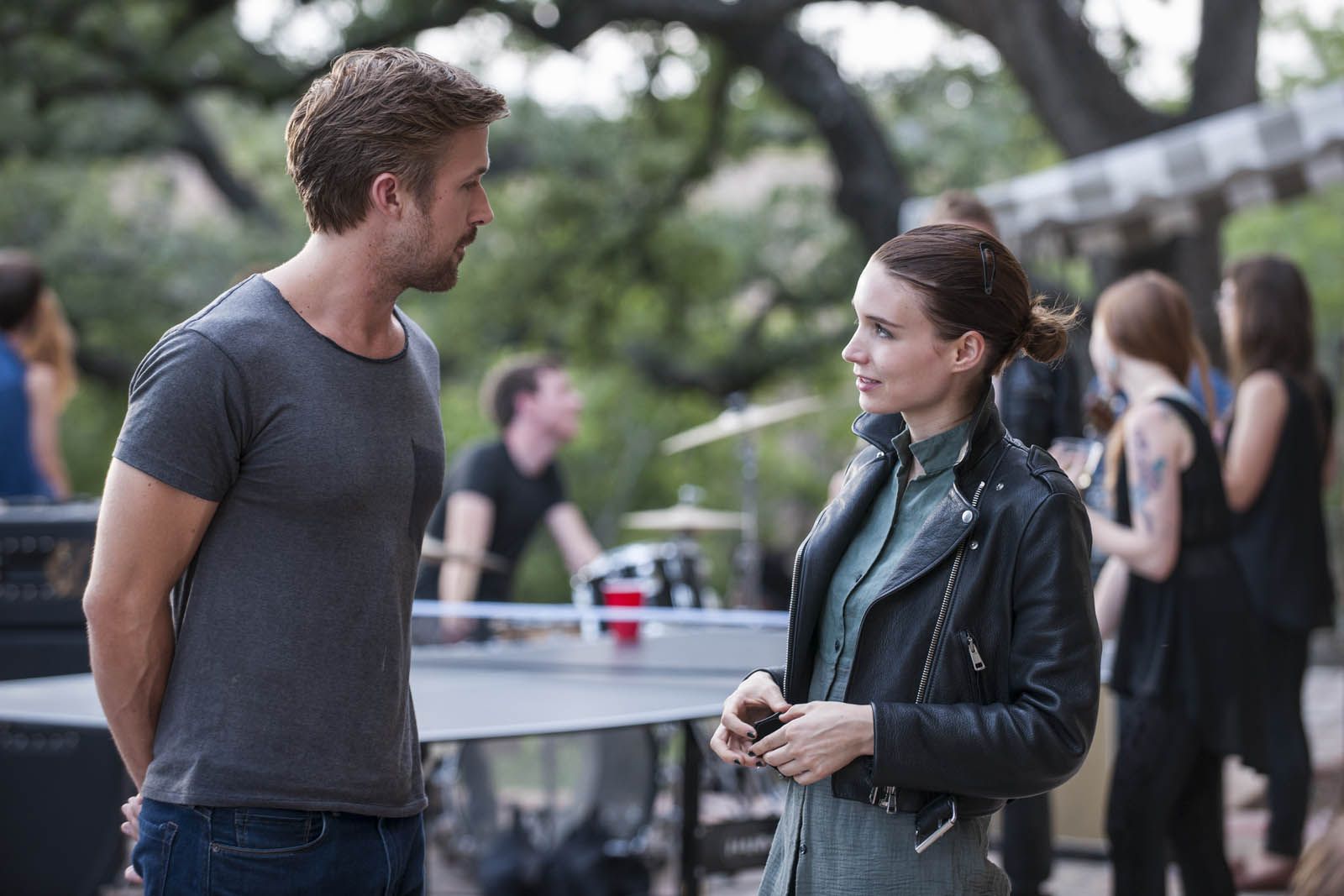 Informações Técnicas :
Título no Brasil: De Canção em Canção
Título Original: Song to Song
País de Origem: EUA
Gênero: Drama / Musical / Romance
Tempo de Duração: 129 minutos
Ano de Lançamento: 2017
Direção: Terrence Malick
Estreia no Brasil: 20/07/2017
Estúdio/Distrib.: Supo Mungam Films
Elenco :
Ryan Gosling … BV
Rooney Mara … Faye
Michael Fassbender … Cook
Natalie Portman … Rhonda
Cate Blanchett … Amanda
Holly Hunter … Miranda
Bérénice Marlohe … Zoey
Val Kilmer … Duane
Lykke Li … Lykke
Olivia Grace Applegate … Emma
Dana Falconberry … Faye's irmã
Linda Emond … BV's Mother Judy
Louanne Stephens … Sra. Gansmer
Christin Sawyer Davis … Angry Woman
Tom Sturridge … BV's Brother
Jaylyn Jones … Escort
Jessa Peters … Hotel Girl #1
Amber McConnell … Hotel Girl #2
Brady Coleman … Faye's Father
Kingsley Blair … Rasta Friend
Erik 'Lizard Man' Sprague … Travel Agent
Austin Amelio … BV's Brother
Iggy Pop … Iggy Pop
Patti Smith … Patti Smith
John Lydon … John Lydon
Florence Welch … Florence Welch
Alan Palomo … Alan Palomo
Tegan Quin … Tegan Quin
Sara Quin … Sara Quin
Anthony Kiedis … Anthony Keidis
Flea … Flea
Chad Smith … Chad Smith
Josh Klinghoffer … Josh Klinghoffer
Big Freedia … Big Freedia
Spank Rock … Spank Rock
Cole Alexander … Cole Alexander (Black Lips)
Joseph Bradley … Joseph Bradley (Black Lips)
Jared Swilley … Jared Swilley (Black Lips)
Ian St. Pe … Ian St. Pe (Black Lips)
Neely Bingham … BV's Dad
James Earl 'Hoot' Gibson … Friend of BV's Dad
Pineapple Tangaroa … Lakehouse Guest
Alana Greenfield … Pool Girl #1
Camille Phillips … Sushi Girl
Batan Silva … Music Producer
Craig Fehrman … IRS Man
Natalie Maddox … Confused Party Girl
Keri Bruno … Wedding Officiant
Timothy Riztenhaler … Officer Ritz
Oscar Berreres … Oil Rig Worker #1
Jerry Chancy … Oil Rig Worker #2
Jacob Ferro … Oil Rig Worker #3
Gabriella Rhodeen … Groupie Girl
Vanessa Amaya … Upscale Austin Woman (não creditado)
Frédéric André … Passenger (não creditado)
Angela Bettis … Angela (não creditado)
Cheryl Bond Danks … Restaurant Patron / Pedestrian (não creditado)
Chris Combs … Roadie (não creditado)
Ellary Dahl … Salesgirl (não creditado)
Richard Dillard … Father (não creditado)
Sergine Dumais … Amanda (voz) (não creditado)
Maria Engler … Cafe Goer / Club goer (não creditado)
Rob Faubion … Restaurant Patron (não creditado)
Jaime Gallagher … Jogger (não creditado)
June Griffin Garcia … Restaurant Patron (não creditado)
James Garrigan … Club Patron (não creditado)
Beau Harris … Club Patron (não creditado)
Thomas Fletcher Henley … Restaurant Patron (não creditado)
David Shea Henne … House Party Guest (não creditado)
Chase Joliet … Chase (não creditado)
Heather Kafka … Suzie (não creditado)
Oryan Landa West … Party Guest (não creditado)
Stephen Latham … House Party Guest (não creditado)
Bill Lemens … Gansmer Guest (não creditado)
Tom Macdonald … Satan (não creditado)
Gareth Maguire … Hal (não creditado)
Natalie Makenna … Ashes Girl (não creditado)
Caroline McNeil … Diner (não creditado)
Steven Mitchell … Party Member (não creditado)
James Montalvo … Trick or Treater Parent Soldier (não creditado)
Jennah Love Montalvo … Trick or Treater Hippie Girl (não creditado)
Leah Love Montalvo … Trick or Treater Fairy (não creditado)
Savanah Montalvo … Trick or Treater Secretary (não creditado)
Anthony Montanino … Waiter #1 (não creditado)
Camille Natta … Faye (voz) (não creditado)
Jeremy O. Harris … Partier (não creditado)
Deborah Orazi … Restaurant Patron / Pedestrian (não creditado)
Trevante Rhodes … TR (não creditado)
Eric Robbins … Eric (não creditado)
Peggy Schott … Gansmer Guest (não creditado)
Lupe Trejo … Tattooed Debt Collector (não creditado)
Nina Varano … Actress (não creditado)
Aaron Isaac Vasquez … Club Patron (não creditado)
Johnny Walter … Handsome Man (não creditado)
Savannah Welch … Savannah (não creditado)
Trilha Sonora :
"Vision " Composed e
Interpretada por Klaus Wiese
"Searching for a Serene Sphere " Escrita e Interpretada por Arsenije Jovanovic
"Never Le Nkemsie 2 " Escrita e Interpretada por Die Antwoord
"Symphony No. 2 " Resurrection"
Escrita por Gustav Mahler
Interpretada por Narodowa Orkiestra Symfoniczna Polskiego Radia w Katowicach
Conducted by Antoni Wit
"Take My Heart e Family Tree " Escrita por 'Joseph Bradley', Jared Swilley, Cole Alexander e Ian St. Pe(Ian St. Pe Brown)
Interpretada por Black Lips
Publicada por House Of Hassle
"Cosmic Beam Live 1 " Escrita e Interpretada por Francesco Lupica
"From the Abyss " Composta por Zbigniew Preisner
Interpretada por the Prague Philharmonic Orchestra & Choir
Publicada por G.Shirmer Inc (ASCAP) o/b/o Chester Music (PRS)
[from Diaries of Hope]
"Rollin N Tumblin " Escrita por Morris Levy
Interpretada por Elmore James
Publicada por EMI Longitude Music
Administered by Sony/ATV Music Publishing (ASCAP)
"Babelogue " Escrita e Interpretada por Patti Smith
Publicada por Druse Music (ASCAP)
"Le entretiens de le belle et la Bete " Composta por Maurice Ravel
Interpretada por Symfonický orchester Slovenského rozhlasu e Slovak Philharmonic Chorus
Conducted by Kenneth Jean
Publicada por Universal Music – MGB Songs o/b/o Durand Ed. (ASCAP)
[Excerpts from "MA MERE L'OYE"]
"Pavane de la belle au bois dormant " Composta por Maurice Ravel
Interpretada por Symfonický orchester Slovenského rozhlasu e Slovak Philharmonic Chorus
Conducted by Kenneth Jean
Publicada por Universal Music – MGB Songs o/b/o Durand Ed. (ASCAP)
[Excerpts from "MA MERE L'OYE"]
"Petit poucet " Composta por Maurice Ravel
Interpretada por Symfonický orchester Slovenského rozhlasu e Slovak Philharmonic Chorus
Conducted by Kenneth Jean
Publicada por Universal Music – MGB Songs o/b/o Durand Ed. (ASCAP)
[Excerpts from "MA MERE L'OYE"]
"Le jardin féérique " Composta por Maurice Ravel
Interpretada por Symfonický orchester Slovenského rozhlasu e Slovak Philharmonic Chorus
Conducted by Kenneth Jean
Publicada por Universal Music – MGB Songs o/b/o Durand Ed. (ASCAP)
[Excerpts from "MA MERE L'OYE"]
"Reincorporation " Escrita e Interpretada por Nicholas Britell
"Land: Horse/Land of a Thousand Dances/La Mer (De) " Escrita e Interpretada por Patti Smith
"Rollin N Tumblin " Escrita e Interpretada por Bob Dylan
Publicada por Special Rider Music (SESAC)
"God Is Standing By " Composta por Johnnie Taylor
Interpretada por The Soul Stirrers
Publicada por ABKCO Music, Inc. (ASCAP)
"Symphony No. 3, Op. 78 (Organ) " Composta por Camille Saint-Saëns
Interpretada por Stockholms Filharmoniska Orkester
Conducted by James DePreist
"Ein Wallfahartslie/Pilgrim's Song " Composta por Arvo Pärt
Interpretada por the The Swedish Radio Symphony Orchestra
Publicada por Universal Edition AG Vienna (GEMA)
"Raw Power " Escrita por James Williamson e Iggy Pop
Strait James Music / BMG Bumblebee (ASCAP)
"Search e Destroy " Escrita por James Williamson e Iggy PopStrait James Music / BMG Bumblebee (ASCAP)
"The Turnaround " Escrita por John Dwyer
Interpretada por Thee Oh Sees
"Saturn, The Bringer of Old Age " (from the Planets)
Composta por Gustav Holst
Interpretada por Symfonický orchester Slovenského rozhlasu (como CSR Symphony Orchestra (Bratislava))
Conducted by Adrian Leaper
"Symphony in F Major [Urbs Roma] " Escrita por Camille Saint-Saëns
Interpretada por Malmö Symfoniorkester(as Malmö Symphony Orchestra)
Orchestra Conducted by Marc Soustrot
"Nuages " (from "Nocturnes")
Escrita por Claude Debussy
Interpretada por Orchestre National de Lyon
Conducted by Jun Märkl
"Planet Dead Deerhorn " Escrita por Eric Loftis, Ben Maddox, e Wes Turner(as Wesley Turner)
Interpretada por 'Hundred Visions'
"It Hurts to Be Alone " Escrita por Bob Marley
Interpretada por Lykke Li e Ryan Gosling
Publicada por Blue Mountain Music, LLC / Irish Town Songs (ASCAP) o/b/o Fifty-Six Hope Road Music Ltd & Blackwell Fuller Music Publishing LLC
"I Know Places " Escrita por Bjorn Yttling (Björn Yttling)a nd Lykke Li
Interpretada por Lykke Li
(P) 2010 LL Recordings
Publicada por EMI April Music Inc. o/b/o EMI Music Publishing
Scandinavia Ab e R-Rated Music (ASCAP)/EMI Blackwood Music Inc. o/b/o EMI Music Publishing Scandinavia Ab (BMI)
"Love Out of Lust " Escrita por Rick Knowles, Bjorn Yttling (Björn Yttling), e Lykke Li
Interpretada por Lykke Li
(P) 2010 LL Recordings
Publicada por EMI April Music Inc. o/b/o EMI Music Publishing Scandinavia Ab e RRated Music (ASCAP)/EMI Blackwood Music Inc. o/b/o EMI Music Publishing Scandinavia Ab (BMI)
"Theodora, Act III Chorus:Act 1 Recitative, Aria (Messenger, Irene) " Composta por George Frideric Handel
Interpretada por English Chamber Orchestra
"I Fink U Freeky " Interpretada por Die Antwoord
Escrita por Anri Du Toit, Justin De Nobrega, Yo-Landi Visser, Lily Roberts, D.J. Hi-Tek /Tony Cottrell), W. Jones
"Fatty Boom Boom " Escrita por Justin De Nobrega, W. Jones, A du Toit
Interpretada por Die Antwoord
Publicada por Zef Entertainment / Sony/ATV Music Publishing
"Runaway " Escrita por Del Shannon e Max Crook
Interpretada por Del Shannon
Mole Hole Music (BMI) /Appoline Avenue Music, Inc. (BMI) / Belton Street Music, Inc. (BMI)
"Angelus " Escrita por Wojciech Kilar
Interpretada por Narodowa Orkiestra Symfoniczna Polskiego Radia w Katowicach
Conducted by Antoni Wit
"Explode " Escrita por Adam Piggott e Big Freedia(Freddie Ross)
Interpretada por Big Freedia
Publicada por Brill Building Music Publishing, LLC (BMI) As Administered by Songs of Kobalt Music Publishing [BMI]
"I'm Wrong " Escrita e Interpretada por Sharon Van Etten
Publicada por House Of Hassle (ASCAP)
"Makambo " Escrita e Interpretada por Geoffrey Oryema
Publicada por WOMAD Music Ltd (PRS)
"Birdland " Escrita e Interpretada por Patti Smith
Publicada por Druse Music
"As Long as I Can Hold My Breath " Escrita e Interpretada por Harold Budd
Publicada por Universal – Songs of PolyGram International, Inc. o/b/o Itself e Toyon Music (BMI)
"Tamni Damari " Escrita e Interpretada por Arsenije Jovanovic
"Summer Nite " Escrita por Rod Swenson e Richard Stotts
Interpretada por Wendy O. Williams e The Plasmatics
"You're a Zombie " Escrita por Rod Swenson e Richard Stotts
Interpretada por Wendy O. Williams e The Plasmatics
"Envelope " Composed e
Interpretada por Julianna Barwick
"Werente Serigne " Escrita por Koffi Attisso e N-Diogou Dieng
Interpretada por Orchestra Baobab
Publicada por World Circuit Ltd.
Administered by Domino Publishing Company USA (ASCAP)
"I'm A Pilgrim " Escrita por S.R. Crain/Roy Crain
Interpretada por The Soul Stirrers
Publicada por ABKCO Music, Inc. (ASCAP)
"The Merciful Goodness of the Lord " Escrita por George Frideric Handel
Interpretada por Bremen Baroque Orchestra
"Havanaise in E Major, Op. 83 " Composta por Camille Saint-Saëns
Interpretada por the Narodowa Orkiestra Symfoniczna Polskiego Radia w Katowicach
Conducted by Johannes Wildner
"La cathédrale engloutie " Composta por Claude Debussy
Interpretada por Hanan Townshend
"Ein Wallfahartslie/Pilgrim's Song " Composta por Arvo Pärt
Interpretada por the The Swedish Radio Symphony Orchestra e choir
Publicada por Universal Edition AG Vienna (GEMA)
"Sexual Tension " Written e Joseph Lewis, Bill Stevenson, Jason Frey, Derek Phelps, Joseph Woullard, Eduardo Torres
Interpretada por Black Joe Lewis e the Honey Bears
"Magma Psalm " Escrita e Interpretada por Arsenije Jovanovic
Publicada por Arsenije Jovanovic (SACEM)
"3 More Piano " Escrita por Patty Griffin e Craig Ross (como Craig D. Ross)
Interpretada por Church Bus
Publicada por Almo Music Corp. o/b/o One Big Love
"Forest City " Escrita e Interpretada por Daniel Lanois
Publicada por Universal Music Corp. o/b/o Daniel Lanois Songs (ASCAP)
"Hold Yuh " Escrita e Interpretada por Windel B Edwards, as Gyptian
Publicada por STB (ASCAP)/Songs of STB (BMI)
"For Our Sake " Escrita por Lauren Mikus e Jillian Talley
Interpretada por G A L P A L S
"Ghost Dance " Escrita por Curtis Roush, Jack O'Brien, e Joseph Mirasole
Interpretada por The Bright Light Social Hour
"I Know I've Been Changed " Escrita e Interpretada por LaShun Pace
Publicada por Peermusic III, Ltd. o/b/o Itself & Savgos Music, Inc. (BMI)
"Savane " Escrita por Koffi Attisso e N-Diogou Dieng
Interpretada por Orchestra Baobab
Publicada por World Circuit Ltd. Administered by Domino Publishing Company USA (ASCAP)
"Take Your Burden to the Lord " Escrita por Charles A. Tindley
Interpretada por Ryan Gosling
"The Knocker " Escrita e Interpretada por Jake Weber
"Monster Moon " Escrita por Stephen Salisbury, Laura Colwell, e Michael Bain
Interpretada por Sun June
"Jesus Rides the Subway " Escrita e Interpretada por Trevor Morgan
Publicada por Trevor Morgan Music (ASCAP)
"Reinas De Reinas " Escrita por Jesus Ramirez Herrera
Publicada por Penny Farthing Music (ASCAP) o/b/o Vander Music Inc (ASCAP)
"Wind Song " Escrita por Will Patterson
Interpretada por Sleep Good
"Century City " Escrita por Will Patterson
Interpretada por Sleep Good
"Guitar Jam " Escrita e Interpretada por Will Patterson
"Room for Doubt " Escrita e Interpretada por Reed Turner
"Mis Dos Penquenas " Escrita e Interpretada por Orlando 'Cachaíto' López
Publicada por World Circuit Ltd.
Administered by Domino Publishing Company USA (ASCAP)
"Burn to Live " Written e
Interpretada por 'BLXPLTN'
"It Hurts to Be Alone " Escrita por Bob Marley
Recorded e Mixed by Mike McCarthy
Produzido por Nigel Godrich
"Lahaul Valley " Escrita e Interpretada por David Parsons
Publicada por Celestial Harmonies (BMI)
"Leona " Escrita e Interpretada por Dana Falconberry
Publicada por Dolphin Vs. Vampire Music (ASCAP)
"Tarpoche " Escrita e Interpretada por David Parsons
"Do You Be " Escrita e Interpretada por Meredith Monk
"Three Quarter Blues " Escrita por Kyle Shutt, Bryan Richie, e Santiago Vela III
Interpretada por The Hilt
Publicada por Stop Moving, Bryan Richie Music (ASCAP) e Jimmy Vela Music (SESAC)
Tamanho do Arquivo : 975 MB
Qualidade do Vídeo :

BDRip ( 10 )


Idioma do Audio : Inglês e Português ( Dublado ) – Dual Áudio ( 10 )
Servidor : Uploaded
Download / Baixar :
RELEASE : De.Cancao.em.Cancao.2017.BDRip.XViD.Dual.Audio-RLS
OPÇÃO 2 :
Tamanho do Arquivo : 862 MB
Qualidade do Vídeo :

720p BRRip MKV ( 10 )


Idioma do Audio : Inglês ( 10 )
Servidor : Uploaded
Download / Baixar :
RELEASE : Song.To.Song.2017.720p.BRRip.HEVC.850MBMkvCage
OPÇÃO 3 :
Tamanho do Arquivo : 810 MB
Qualidade do Vídeo :

BRRip AVi ( 10 )


Idioma do Audio : Inglês ( 10 )
Servidor : Uploaded
Download / Baixar :
RELEASE : Song.To.Song.2017.BRRip.XviD-TV