Status de Atualizações do Post: 720p BRRiP MKV Dual Audio + Legenda

Sinopse :
Footloose empolga com inspiração, números musicais deslumbrantes e uma eletrizante trilha musical. Mostra a eterna luta entre o prazer inocente e a moral rígida, na história de Ren McCormick (Kevin Bacon), rapaz da metrópole que vai para uma conservadora cidadezinha, onde dançar e também a alegria da juventude foi proibido. Ren revolta-se, junto com o melhor amigo, Willard (Chris Penn), e a filha do ministro (Lori Singer). Com preciosas canções de sucesso, como Footloose, de Kenny Loggins, `Dancing in the Sheets´, de Shalamar, `Let´s Hear It For The Boy´, de Deniece Williams, `Holding Out For A Hero´, de Bonnie Tyler, e o tema romântico `Almost Paradise´.
Opiniões | Curiosidades | Críticas | Prêmios :
Excelente filme. Marcou toda uma geração e serviu de parâmetro para muitos jovens da época. Kevin Bacon está eletrizante e empolgante. Lembro que, quando assisti me emocionei e me empolguei também. Vi esses dias a nova versão a achei boa. Mas, nada se compara com esse clássico de 1984.
Trailer: Assistir
Imagens | Posters | Capa | Cartaz | Fotos: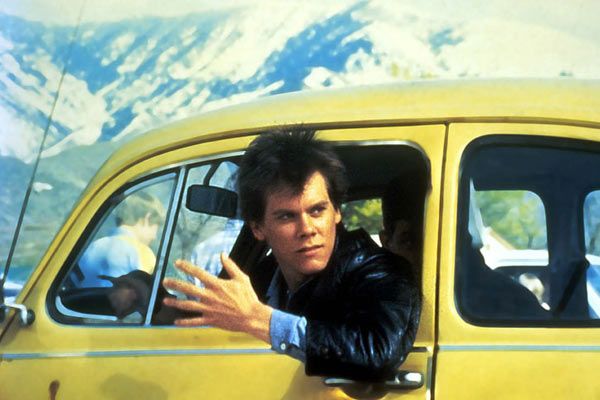 Informações Técnicas :
Título no Brasil: Footloose – Ritmo Louco
Título Original: Footloose
País de Origem: EUA
Gênero: Drama / Musical / Romance
Tempo de Duração: 107 minutos
Ano de Lançamento: 1984
Direção: Herbert Ross
Estúdio/Distrib.: Paramount Home Entertainment
Idade Indicativa: 12 anos
Elenco :
Kevin Bacon … Ren
Lori Singer … Ariel
John Lithgow … Rev. Shaw Moore
Dianne Wiest … Vi Moore
Chris Penn … Willard
Sarah Jessica Parker … Rusty
John Laughlin … Woody
Elizabeth Gorcey … Wendy Jo
Frances Lee McCain … Ethel McCormack
Jim Youngs … Chuck Cranston
Douglas Dirkson … Burlington Cranston
Lynne Marta … Lulu Warnicker
Arthur Rosenberg … Wes Warnicker
Timothy Scott … Andy Beamis
Alan Haufrect … Coach Roger Dunbar
Linda MacEwen … Eleanor Dunbar
Kim Jensen … Edna
Michael Telmont … Travis
Leo Geter … Rich
Ken Kemp … Jeff
Russ McGinn … Herb
Sam Dalton … Sr. Gurntz
H.E.D. Redford … Widdoes
Jay Bernard … Harvey
David Valenza … Team Member
Meghan Broadhead … Sarah Warnicker
Mimi Broadhead … Amy Warnicker
Gene Pack … Bernie
Marcia Reider … Virginia
John Perryman … Fat Cowboy
Mary Ethel Gregory … Sra. Allyson
Oscar Rowland … Sr. Walsh
J. Paul Broadhead … Mayor Dooley
John Bishop … Elvis
Carmen Trevino … Girl
Melissa Renee Graehl … Girl
Monica M. Da Silva … Girl
Terri Gay Ulmer … Girl
Brandyn Cross … Party Kid (não creditado)
Deborah Frazier … Dancer (não creditado)
Marcia Gay Harden … Dancer (não creditado)
Brian L. McCarty … Nerdish High School DJ (não creditado)
Alison Trouse … Cowgirl Bar Dancer (não creditado)
Brian Wimmer … (não creditado)
Trilha Sonora :
"Footloose" Escrita por Kenny Loggins e Dean Pitchford
Interpretada por Kenny Loggins
"Let's Hear It for the Boy" Música de Tom Snow
Letra de Dean Pitchford
Interpretada por Deniece Williams
"Dancing in the Sheets" Música de Bill Wolfer
Letra de Dean Pitchford
Interpretada por Shalamar
"Never" Escrita por Michael Gore e Dean Pitchford
Interpretada por Moving Pictures
"I'm Free" Escrita por Kenny Loggins e Dean Pitchford
Interpretada por Kenny Loggins
"The Girl Gets Around" Escrita por Sammy Hagar e Dean Pitchford
Interpretada por Sammy Hagar
"Holding Out for a Hero" Escrita por Jim Steinman e Dean Pitchford
Interpretada por Bonnie Tyler
"Somebody's Eyes" Escrita por Tom Snow e Dean Pitchford
Interpretada por Karla Bonoff
"Bang Your Head (Metal Health)" Interpretada por Quiet Riot
"Waiting for A Girl Like You" Interpretada por Foreigner
"Hurts So Good" Interpretada por John Mellencamp (como John Cougar)
"Almost Paradise" (Love Theme)
Música de Eric Carmen
Letra de Dean Pitchford
Interpretada por Mike Reno e Ann Wilson
Tamanho do Arquivo : 903 MB
Qualidade do Vídeo :

720p BRRiP MKV ( 10 )


Idioma do Audio : Inglês e Português ( Dublado ) – Dual Audio ( 10 )
Servidor : Uploaded
Download / Baixar :
RELEASE : Footloose.Ritmo.Louco.720p.BRRiP.x264.Dual.Audio